PrimeRates Lender Partner Network










PrimeRates provides access to personalized loan offers through our simple and quick pre-qualification application. Once you're pre-qualified, you can select the best offer for you and finalize the loan application with the lender.
Apply in minutes

Simple pre-qual application in less than 1 minute. 

Select your loan offer

Choose the offer that best fits your needs.

Receive funds quickly

Finalize your loan offer, get approved, and receive funds.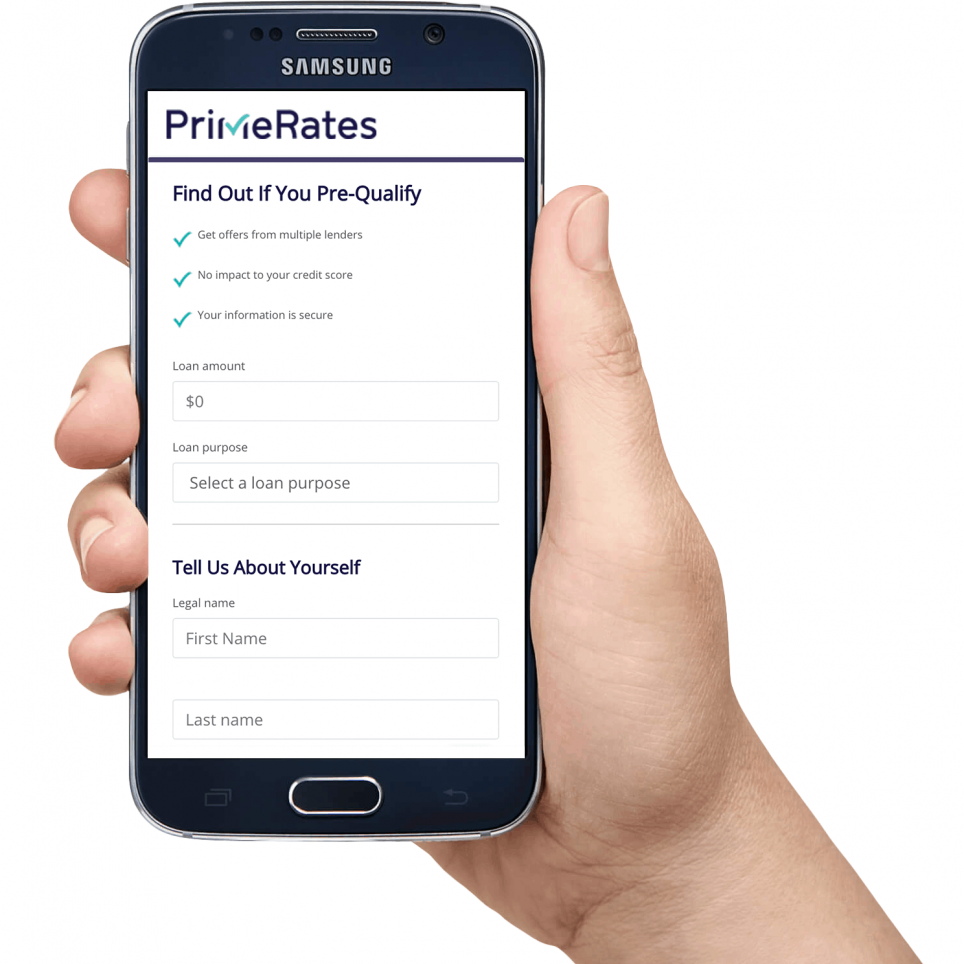 How To Finance a Home Remodel
Many homeowners underestimate the cost of home remodeling projects. From the get-go, it's important to set expectations that an expanded living room, a bigger bathroom, a finished basement, or whatever it is you've been dreaming of will always come at a cost. But before you get overwhelmed by the amount of money involved in home remodeling, know that there are home remodeling financing options available out there for you.
If you're seriously considering a home remodeling project, there are several ways to pay for home renovations that wouldn't involve producing cash out of your own pocket. After all, nobody wants to spend an absurd amount of cash in one go, right?
What is home remodel financing?
Home remodel financing simply means borrowing money from a financial institution to fund home renovation projects. The conventional way involved borrowers going to a bank or a credit union and applying for a loan that would undergo a strict review process. Nowadays, with the rise of online lenders, borrowers now have other channels to consider when financing their home remodeling projects that have more relaxed qualifications and a faster application process.
How to finance a home remodel?
Unfortunately, there is no single best way to finance a home remodel. Your home remodeling financing options would most likely depend on your creditworthiness, your financial situation, and the property that you own. Whether you're wondering how to finance a major home remodel project or funding small changes in your home, know that there is a home remodel finance option out there that would meet your needs and requirements.
What are my options for home remodel financing?
If you're wondering what types of lenders offer home remodel financing, then you clicked the right article! Like you, borrowers looking to finance their home remodeling project can turn to banks, credit unions, and online lenders for their funding needs. For larger loans, your options for home remodel financing often come in the form of home equity loans, home equity lines of credit, and cash-out refinancing. When it comes to smaller home remodeling projects, personal loans and credit cards can also be used to fund improvements in your home.
Banks
Banks are traditional lenders that often have strict guidelines when it comes to loan applications. However, if you qualify for home remodel financing, banks would usually have competitive interest rates and convenient payment terms. Keep in mind that larger loans for home remodeling projects would most likely use your home as collateral.
Credit Unions
Loans designed by credit unions have more forgiving qualification standards, lower rates, and customer-centric services. And, because a credit union is not a for-profit institution, they are able to offer better interest rates to their members.
Online lenders
The great thing about online lenders is how flexible they are when it comes to qualifications. Online lenders are known to carefully consider other indicators of financial health when judging a borrower's capability to pay back a loan. The application process can occur over the internet and borrowers can get approved within a couple of minutes. This makes online lenders a great option because of the convenience and accessibility it brings to borrowers that have bad credit or may need a quick cash injection. However, one disadvantage that you may have to deal with about online loans is that interest rates may not be as competitive when compared to traditional loans.
What are the pros and cons of home remodel financing?
A common misconception about home remodeling projects is that you always have to borrow money from a financial institution to be able to pay for it. That's simply untrue. If you have enough savings or have family or friends willing to lend you money, then those are definitely better options instead of going into debt. But if a loan is your only option, then it's important to talk about the pros and cons that come with it.
Pros of home remodel financing
Strategic home remodeling projects could increase the value of your house

Interest payments are usually tax-deductible

Possibility to get competitive rates based on your creditworthiness
Cons of home remodel financing
Some loans use your house as collateral

Qualifying for a loan with excellent payment terms is difficult

The approval process may take a long time
The pros and cons of home remodel financing strictly depend on the type of loan you are applying for. If you have exceptional credit, chances are you have more home remodel finance options to consider. But if your credit isn't doing so well, your options will be limited.
What type of loans are best for home remodel financing?
Not all home remodel financing options are the same. Again, the type of loan that's perfect for your home remodeling project would depend on your current financial situation. You will be the best person to determine whether or not a certain type of financing makes financial sense. You would also need to consider your income, the size of the project, the possible return on investment, and your monthly expenses. After assessing your personal finances, it's time to look at sensible loan options.
For bigger projects:
Home equity loans - If you have already paid down a significant portion of your mortgage, you may be eligible to take out a second mortgage. Home equity loans are usually a one-time lump sum loan that will be repaid through monthly installments. Home equity loans work by calculating the difference between the appraised value of your home and your mortgage's current balance. The great thing about home equity loans is that it offers fixed interest rates which means that monthly payments will remain the same for the rest of your loan's term

Home equity lines of credit (HELOCs) - HELOCs also use your home's equity as the basis for your loan terms. The main difference between home equity loans and HELOCs is that HELOCs work as a revolving balance that may be accessed, repaid, and then accessed again as needed. With HELOCs, borrowers only pay interest on the amount of money borrowed. The less money you draw, the less interest you will pay.

FHA 203(k) loans - Wondering how to finance a home remodel without equity? These loans are guaranteed by the Federal Housing Administration and are perfect for homeowners with little or no home equity. An FHA 203(k) loan enables borrowers to pay for both the home purchase and improvements with a single loan. The biggest advantage of this type of loan is that the loan amount is based on the improved value of the home and not the current value. This type of loan also works for home buyers that have found a house that's affordable but not in the greatest condition.

Cash-out refinancing - A cash-out refinance is considered as a first mortgage. This means that the loan amount on your new refinanced mortgage will be higher than the amount that you currently owe. The more equity you have built up, the more money you can convert to cash. Cash-out refinances offer benefits such as:

Interest paid could be tax-deductible
No more extra payments, your loan is rolled into your mortgage
Lower rates compared to other financing options
You maintain just one monthly payment
The cash you take out can be used however you want
For smaller projects:
Personal loans - A personal loan is another home remodel finance option to consider for borrowers that don't have much equity. Most personal loans, especially with online lenders, involve a simple application and approval process. Personal loans are unsecured which means you are not at risk of losing your house if you become unable to pay your loan. However, since a personal loan is unsecured, your rates would depend on your overall creditworthiness. If you have bad credit, expect to be offered higher than usual interest rates.

Credit cards - If you are eligible for a credit card that offers a 0% interest rate for a certain time period, it can mean financing your home remodeling project with no interest payments. Be sure to pay off your balance before the promotional term ends. The best part? Using your credit card for home remodeling, and paying the balance on time, means that you can also accumulate points and rewards.
How much can you borrow for home remodel financing?
According to Home Advisor, the cost of home remodeling projects can range from $18,372 to $76,004. This, of course, depends on the size of your home and the type of remodeling project you are thinking of doing. Before wondering how much you can borrow for home remodel financing, it's important to first think about how qualified you are when it comes to applying for a loan.
Do you have good credit? Are you employed? Do you have an abundance of liquid assets that banks can consider when reviewing your loan? How much money do you need? Can you risk your house as collateral? These are just some of the questions you need to ask yourself before thinking of the best way to finance a home remodel project.
Are there alternative home remodeling financing options?
The most rational piece of advice that we can give you is to shop around and educate yourself about multiple lenders and the multiple loans they offer to help you find the best way to finance a home remodel. If you want a one-stop-shop to compare the loans that you can qualify for, try PrimeRates. PrimeRates enables borrowers to access loan offers through a simple and quick pre-qualification process. Once you're pre-qualified, you have the option to select an offer and finalize the loan application with your prospective lender. Here's how it works:
Pre-qualify within minutes - no impact on your credit score

Select the loan offer that makes the most financial sense

Finalize your loan offer with your lender

Wait for your funds!
The bottom line
Regardless of the loan offers you are eligible for, the most important thing to do is to compare those loans carefully. Study the different costs that come with various types of loans and determine which realistically fits your home remodeling needs. If you are currently in a place where applying for a loan seems like a responsible decision financially, then by all means go ahead. But if you think having a loan would push you further into debt, then now might not be the right time to remodel your home. 
Home Improvement Financing Articles