PrimeRates provides access to personalized loan offers through our simple and quick pre-qualification application. Once you're pre-qualified, you can select the best offer for you and finalize the loan application with the lender.
Apply in minutes

Simple pre-qual application in less than 1 minute. 

Select your loan offer

Choose the offer that best fits your needs.

Receive funds quickly

Finalize your loan offer, get approved, and receive funds.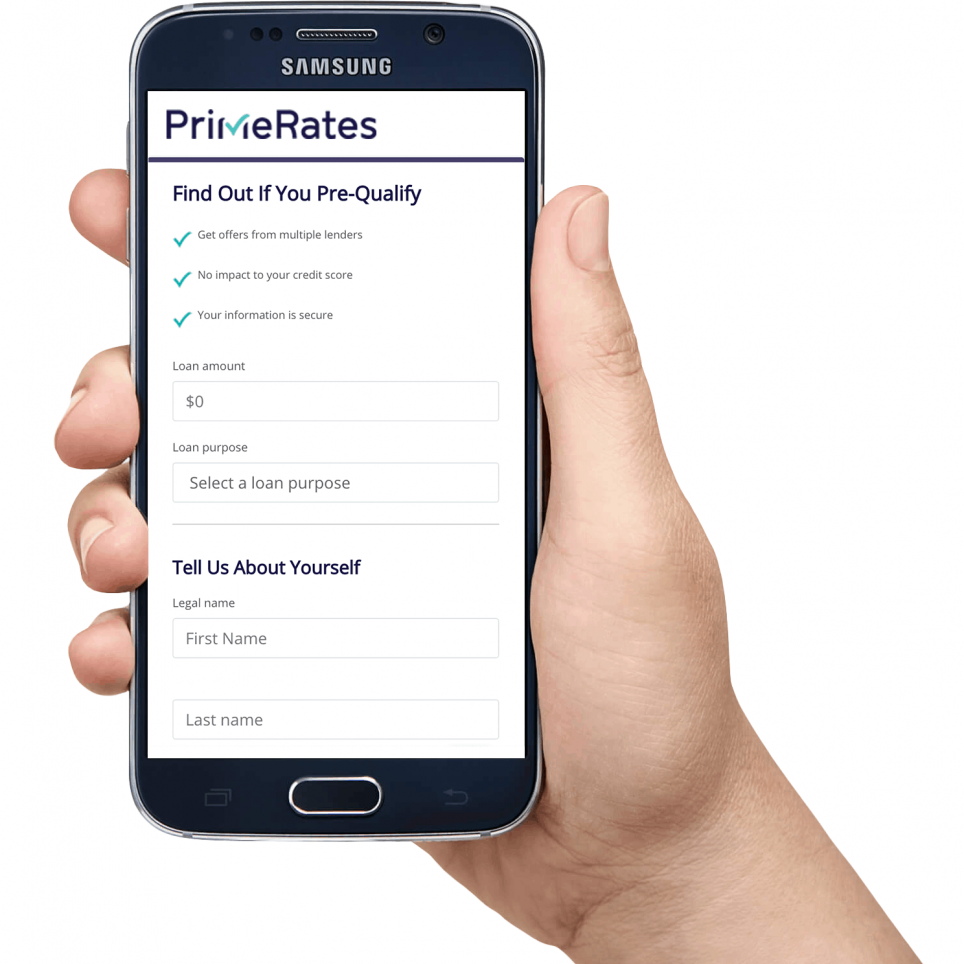 Quick Loans Online - How To Borrow Money Fast
Life is unpredictable, and you never know when it's going to throw a curveball your way. You might wake up one morning thinking it's just another day, but then something unexpected happens, and before you know it, you're on the hook for thousands of dollars you don't have. So what are you to do in situations such as this? That's when fast loans can come to the rescue.
Fast loans come in a variety of forms, ranging from same-day loans to two-day loans to emergency loans for bad credit applicants. If you're new to the world of quick, easy loans, here's an overview of the essential elements along with some suggestions regarding which lenders deserve a closer look.
Where to Borrow Money Fast Online
When it comes to fast loans, several online lenders offer to provide funding in two days, one day, or even the very same day you apply. If time is of the essence in your situation, here's a list of today's most reputable online lenders and how long it takes them to deliver the desired funds.
Lender
Funding Time
OneMain Financial
Loans can be processed the same day (same day funds have to be received in person at a local branch)
LightStream
As early as same day
Upstart
Typically one day
Upgrade
Can be processed in one day
Best Egg
As soon as next day
LendingPoint
Next day in some cases
Avant
Typically two days
Marcus
Loans processed in two days
Prosper
Usually five days
Click to compare estimated rates on PrimeRates.
Things to Know Before Taking Out a Quick Loan
There are a few things you should consider prior to applying for a quick loan. For starters, it's important to crunch the numbers and determine if you'll actually be able to meet the repayment terms you'll agree to. Depending upon your credit history, your APR might be higher than you imagined, and the amount of interest you'll be paying can quickly get out of control. Spend as much time as you can researching competing lenders to find out which financial institution is able to offer you the best rate. Don't hesitate to apply with several lenders, as the soft credit checks they conduct won't affect your credit score.
Quick Loans in a Week or Less
If you've got a little bit of breathing room, and don't necessarily need access to a fresh influx of cash within the next 48 hours, consider applying for a loan from lenders that can likely offer you a more attractive APR at the cost of requiring you to wait a few extra days.
Several online lenders and a handful of large banks offer loans in about a week, however the specific amount of time can vary based upon your application. If you're not sure where to start researching your options, here are three leading lenders to consider for quick loans in a week or less.
FreedomPlus — FreedomPlus loans have APRs that range from 4.99% to 29.99%, which includes all associated fees. Only borrowers with excellent credit reports will qualify for the lowest interest rates, and funds will usually be available within 48 hours of approval.
SoFi — With SoFi loans, fixed APRs range from 6.99% to 15.49% APR. Borrowers have from three to seven years to pay back the loans from $5,000 to $100,000, and there are never any fees to worry about.
Payoff — Personal loans can be from $5,000 to $35,000, and most borrowers use these loans to lower or eliminate their current credit card debt.  This lender offers fixed rates between 5.99% and 24.99%, though the specific terms of Payoff loans do vary by state.
Emergency Loans For Bad Credit
People with poor credit who have been repeatedly rejected by lenders might be tempted to apply for loans that don't require checking their credit report. These types of loans are typically advertised online and on late-night television, and there's usually more to these arrangements than meets the eye. Generally speaking, no reputable lender will enter into an agreement with you without first assessing your reliability as a borrower. And for that reason, it's usually a good idea to stay away from lenders who offer to loan you money regardless of your credit report.
» MORE: Loans For Bad Credit
Other Quick Loan Options
If you need cash this instant but don't want to apply for online loans with same day funding, there are some more traditional avenues you can consider. Here's a look of three of today's ways to temporarily borrow money.
Payday Loans — These short-term loans are available from lenders in thousands of storefronts across the country. Payday loans are notorious for their out-of-control APRs that can be as high as 300% and for requiring borrowers to repay their loans in two- to four weeks.
Title Loans — If you have the title to a car, you can use your vehicle's value to secure a loan equivalent to the worth of your set of wheels. Similar to payday loans, title loans are often accompanied by short terms and high APRs, but they also involve using your car as collateral, so don't be surprised if a tow truck appears in your driveway should you ever miss a payment.
Pawn Shop Loans — If you need access to hundreds, not thousands, of dollars, a pawn shop might be your best bet. Pawn shops involve temporarily trading in items you own in exchange for a fraction of their value as assessed by the pawnbroker. Borrowers generally have to pay back the funds within 60 days, and the average loan amount hovers around $150. Storage fees and high-interest rates can be tacked onto what you owe, and if you fail to make a payment on time, you can say "so long" to the item you pawned.


» MORE: How Do Pawnshop Loans Work?
Conclusion
If you're in need of a quick loan, one of these options should be right for you. Collect some quotes, and compare terms from various providers before selecting the lender that's right for you.
Top Personal Loan Articles
Other Personal Loan Types