Small Business Administration (SBA) loans are one of the best loan options available to small businesses. As a result, it's worth it to meet the SBA loan requirements required to submit an application and qualify.
In most cases, SBA loans can be used for just about any business related purpose. They are a low-cost way for well qualified businesses to access substantial loan amounts. In addition, they usually offer long repayment terms and competitive interest rates combined with lower down payment requirements. Starting to see why SBA loans are an attractive option for small businesses? If you are thinking about applying for an SBA loan you should invest the time to understand SBA required qualifications and documentation beforehand. 
Below, we have outlined SBA loan requirements to help you get started. We strongly encourage that you do your research and conquer the complex application and approval process - it's worth it! When you are ready to apply, visit PrimeRates online. PrimeRates can make it easy for you to secure the best SBA loan offer by delivering multiple personalized loan offers to you within seconds.  
General SBA Loan Requirements
For-profit business eligibility
For-profit businesses may be eligible for SBA loans while nonprofits are not. The most basic requirements for for-profit business include:
U.S. based business

Must operate in an eligible industry

Business must be officially registered

Business must be operating legally

Other financing options must be exhausted (This does not mean you should apply for all loans and get denied. It simply means that you will need to prove that other financing options are not available for you.)
For-profit business status
In addition to for-profit businesses needing to meet SBA loan requirements for eligibility, they must also meet business status requirements. For-profit business status requirements can include...
#1. SBA size standards
The SBA's mission is to help small businesses. This means that if you want to use an SBA loan you will need to prove that your business is indeed small. You should note that the SBA often changes their definition of a small business. However, the average neighborhood business should almost always meet their current definition. The size of your business can be measured in the following ways...
Number of employees (industry based): The industry your company belongs to can vary the number of employees required to be classified as a small business. Anything less than 100 employees up to anything less than 1,500 employees can be classified as a small business, depending on the industry you operate in of course.

Business revenue (industry based): In addition to the number of employees, for-profit businesses can also qualify for an SBA loan based on their revenue. Business revenue is also based upon the industry you operate in. This means businesses can generate revenue between $750,000 up to $38.5 million - depending on the industry.

Business net worth: In order for a for-profit business to be considered small it should not exceed $15 million in net worth or $5 million in net annual income.
#2. Personal character, background, and investment
There is a greater risk in loaning a small business money compared to a large corporation. This means that most lenders will want to verify a lot of personal information to learn more about who they are dealing with. Anyone who owns 20% or more of a business applying for an SBA loan should be required to sign a personal guarantee and submit the required information. The SBA will evaluate certain personal aspects that you will need to submit information for including:
Proof that you are a business owner and or your own time or money has been invested into the business

Personal background information (previous addresses, citizenship status, criminal record,etc.)
#3. Time in business
The SBA does not have a fixed requirement for how long you have been in business. However, many lenders do have a minimum requirement of two years operating in business. If you are applying for CAPline of SBA credit a minimum of one year in business is required. Overall, the longer you have been in business, the better chance of approval you may have.
#4. Personal credit score
Most lenders place a lot of importance on your personal credit report and score. To them, this is a window of how you have handled your own finances and loans in the past. Excellent (750+) personal credit  history can give a lender more confidence that you can be responsible with money and operations which could increase the lender's chance of repayment. Reviewing your own credit report prior to applying for an SBA loan can increase your chance of approval. It's important to make sure there are no discrepancies on your credit report prior to applying. 
#5. Business credit score & credit history
In addition to your personal credit report, your business credit report is also taken into account when applying for an SBA loan. If you are seeking an SBA loan for a brand new business the lender cannot rely on the business credit report, increasing the importance of your personal credit report and score. 
In addition to the SBA requirements discussed above, you may also need or want to submit:
Company management resumes

Business plan

Business and personal income tax returns

Business financial statements

Business debt schedule

Bank statements

Collateral

Personal guarantee

Supporting legal documents
Loan Amount:
$30,000 - $350,000
APR Range:
9.7% - 11.04%
Time To Fund:
Typically take several weeks to fund, but can fund as quickly as within seven days.
Loan Term:
Maximum loan term is 10 years.
Origination Fee:
4.00%
How To Qualify:
675+ Personal credit score
$50,000+ Annual revenue
Great Option For:
Borrowers with good credit
SBA loans
Funding real estate purchases
Refinancing debt
Credit Check?
Soft credit check and hard pull
Co-Applicants Accepted?
No cosigners
Direct Pay-Off To Creditors?
No
Click "Check Rates" to apply to SmartBiz
» MORE: SmartBiz SBA Loan Review
Requirements by SBA loan type
SBA 7(a) Loan Requirements
Compared to SBA 504 loans, SBA 7(a) loans are only partially guaranteed by the SBA. Using an SBA 7(a) loan you can borrow up to $5 million and the funds can be used for a wide variety of business purposes. SBA 7(a) standard loans are best for business extension and working capital. The downside to SBA 7(a) loans is they can have a lot of fees and can be difficult to qualify for. Let's take a look at some of the SBA 7(a) loan requirements…
Good to excellent personal credit score

Solid business revenues and profits

Business plan

Collateral 

Must be for-profit business

Must meet SBA small business size standards (industry based)

Business must be located and operated in the U.S.

Sufficient time in business
SBA Microloan Requirements
If you have an average credit score or are a startup you should look into an SBA Microloan. Applications are not reviewed for creditworthiness. Using an SBA Microloan you can borrow up to $50,000. Similar to SBA 7(a) loans, SBA Microloans require collateral. In addition, SBA Microloans typically have higher interest rates. In order to be eligible for an SBA Microloan you should meet the minimum requirements including…
Must be a for-profit business

Must meet SBA small business size standards (industry based)

Average credit

Ability to repay the loan

Business plan

Collateral

Personal Guarantee

Demonstrate good character
SBA 504 Loan Requirements
If you are looking for long-term financing for the purchase of real estate, equipment, and other fixed assets you should consider an SBA 504 loan. These loans are secured by the U.S. government and guaranteed by the U.S. Small Business Administration (SBA). Let's take a look at some of the requirements for an SBA 504 loan…
Must meet SBA small business size standards (industry based)

Net worth should not exceed $15 million

Average net income below $5 million or less after federal income taxes for a minimum of two year prior to application

Fulfill owner occupancy requirements

Public policy goals must be supported or jobs must be created or retained by the project

For-profit businesses only (no operating in a passive industry)

10%-20% down payment
SBA Loan Requirement FAQ's
How long does it take to get approved for an SBA loan?
SBA loan approval can take 90 days or longer to receive approval. Once you have received approval, funds are usually released quickly. PrimeRates can help you simplify the SBA loan shopping process using their secure platform.
How much of a down payment do you need for an SBA loan?
Most SBA loans require a down payment of at least 10%. Some may require collateral as well. 
Are there separate SBA loan requirements for startup companies?
A majority of SBA loans prefer a business to have at least two years in business. If you are a startup looking for an SBA loan, a SBA Microloan can be a great option that is more flexible.
Are SBA loans hard to get?
The truth is, yes SBA loans are hard to get. Although they can be very rewarding you will want to be sure you are committed to the process before starting. 
What is the success rate of SBA loans?
Some studies have demonstrated that only 1 in 6 SBA loans fail. 
PrimeRates provides access to personalized business loan offers through our simple and quick pre-qualification application. Once you're pre-qualified, you can select the best offer for you and finalize the business loan application with the lender.
Apply in minutes

Our simple application takes less than 5-7 minutes to complete.

Select your business loan offer

Choose the offer that best fits your needs by comparing loan amounts and terms.

Receive funds quickly

Finalize your loan offer with the lender you selected to receive your funds.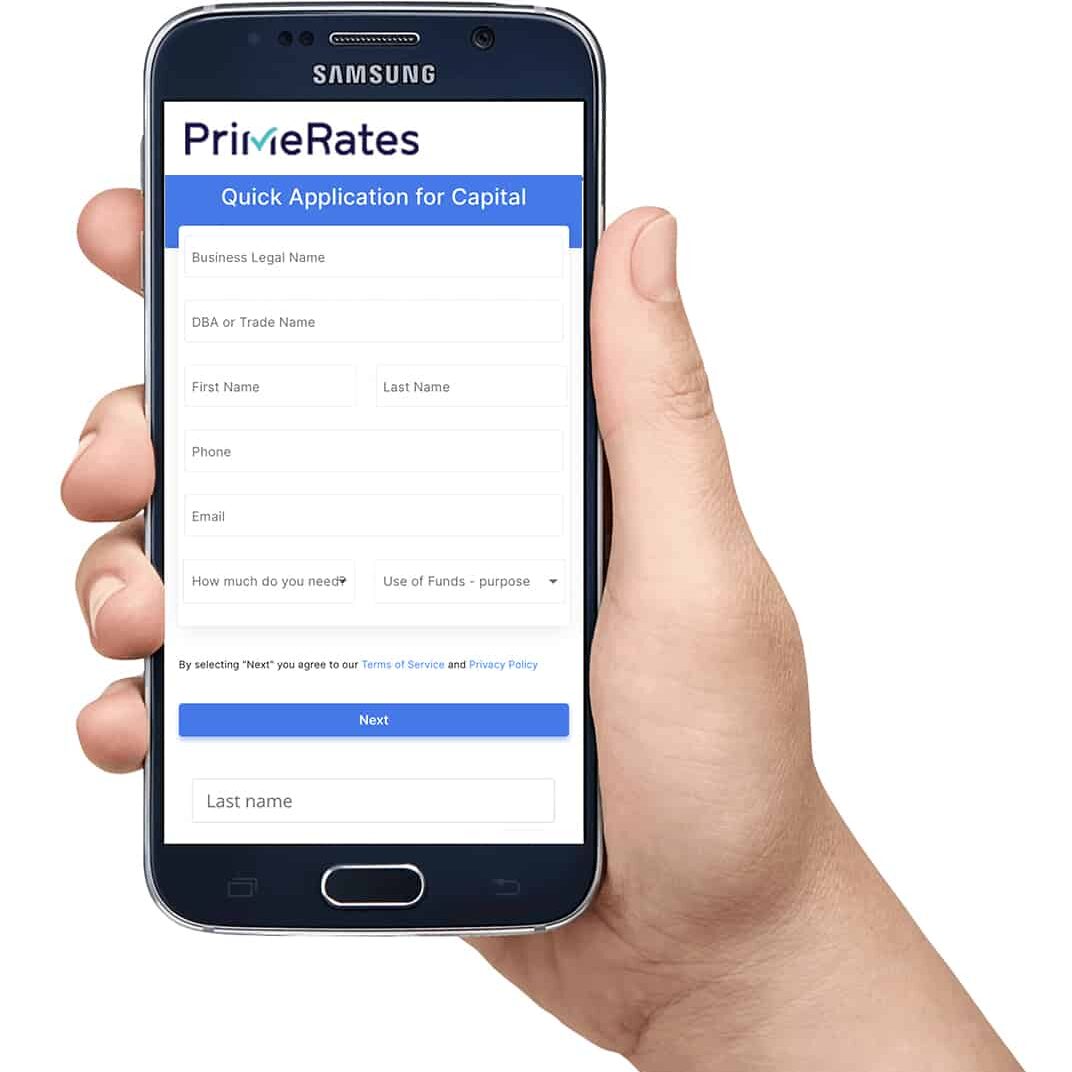 More Business Loan Options