If you're in the market for a loan from the Small Business Administration (SBA), you're likely curious about how these lending arrangements compare to standard loans and how much interest borrowers are required to pay. While most traditional lenders offer standard annual percentage rates (APRs) that apply to all of their loans, it's not quite as simple with SBA loans. That's because there are several different types of SBA loans, and each one has its own specific interest rate. 
What Are the Current SBA Loan Rates for 2019?
To help you compare SBA loan interest rates, here's an overview of the different types of business loans and their APRs.
SBA 7(a) Rates: 
Currently, SBA 7(a) loan rates are 7.75% – 10.25%.
SBA CDC/504 Rates:
At the time of this writing, SBA 504 loan rates are 4.39% – 6.67%.
SBA CAPLines Rates: 
SBA CAPLines rates are typically 5% to 10%.
SBA Export Loans Rates: 
With SBA Export loans, APRs are usually 4.5% to 6.5% above prime, which equates to 9% to 11%.
SBA Microloan Rates:
Interest rates on SBA Microloans currently fall between 6.5% and 13%.
SBA Disaster Loan Rates:
SBA disaster loan interest rates range from 4% to 8% based on whether or not your business has credit elsewhere. 
And, while we're on the topic of rates, it's important to note that the current SBA loan failure rate is 17.4%, which is down from 24.7% in 2008. That equates to roughly one in six businesses, which are unable to repay their loans.
Are SBA Loans Good?
Now that you have a better idea about SBA business loan rates, you might be curious about how these loans compare to traditional lending options. Here's an overview of the pros and cons of these loans.
Advantages
SBA loans are generally flexible, allowing businesses to make smaller payments as they grow.

SBA loans allow entrepreneurs with no previous business credit experience to access funding.

Down payments with SBA loans are typically far lower than they are with standard bank loans.
Disadvantages
Depending on your credit score and the type of SBA loan, your APR could be rather high.

SBA loans usually require more paperwork and longer funding time than traditional loans.

Applicants with poor personal credit are unlikely to get approved for SBA loans.
Why Are SBA Loan Rates So Low?
Many borrowers are initially attracted to these lending arrangements because the average interest rates for SBA loans are generally lower than those offered by standard bank loans. But why is this the case? In a nutshell, it's because borrowers are vetted thoroughly and there's less risk associated with these loans. 
Who Qualifies for SBA Loans?
Depending on the specific type of SBA loan you're considering applying for, you'll first need to satisfy several different criteria in order to qualify. These requirements vary significantly based on the type of loan you're interested in.  
How Much of a Down Payment Is Required for an SBA Loan?
Based on your credit score, a lender might require a down payment in order to secure your loan. If you have a credit score of 680 or above, expect to fork over a deposit between 10% and 20% of the total loan amount.
What Is the Maximum SBA Loan Amount?
The absolute maximum amount of an SBA loan is $5.5 million, although most small businesses request far less funding.
What Can an SBA Loan Be Used For?
Business owners can use funds from SBA loans for a variety of purposes, ranging from inventory to office supplies and real estate to debt refinancing. However, depending upon which type of SBA loan your business is approved for, the actual lender may impose certain restrictions regarding what you can use the money for. 
What Are the Maximum SBA Loan Terms?
The terms for SBA loans can vary tremendously depending on what type of loan you choose and what you use the money for. SBA Microloans, for instance, have a maximum term length of six years, whereas SBA 7(a) loans used for real estate purchases can extend up to 25 years. 
What Credit Score Is Needed for an SBA Loan?
A credit score of 640 is typically the lowest score needed in order to get approved for an SBA loan, although the higher your score is, the better terms you'll qualify for. 
Do SBA Loans Require Collateral?
In some instances, you may be required to provide collateral in order to secure an SBA loan. Generally, this is the case for applicants who have poor credit scores or those who are asking for a relatively high level of funding.  
How Long Does SBA Approval Take?
The amount of time it takes to get approved for an SBA loan can vary widely based on which type of loan you apply for. For instance, finding out whether or not your business is approved for an SBA Community Advantage loan can take up to a month, but receiving a decision for an SBA Express Loan can take less than 36 hours.
Where to Get SBA Business Loans
It's a misnomer that the SBA provides funds directly. Rather, the organization has a broad network of partners that connect entrepreneurs with the funding they seek. Here are two of the most popular SBA loan lenders and their advantages and drawbacks.
SmartBiz
SmartBiz issues SBA Loans that range from $30,000 to $350,000 with repayment terms spanning from 5 to 10 years.
Pros
SmartBiz offers some of the lowest APRs in the industry.

Borrowers have up to 10 years to repay their loans.

Applicants can pre-qualify for loans within 5 minutes and get pre-approved within 30 minutes.
Cons
SmartBiz uses a variable APR, which can fluctuate over time.

SmartBiz loans allow borrowers more time to pay, but this also means paying more interest.

SmartBiz imposes certain restrictions regarding how borrowers can use their funds.
Loan Amount:
$30,000 - $350,000
APR Range:
9.7% - 11.04%
Time To Fund:
Typically take several weeks to fund, but can fund as quickly as within seven days.
Loan Term:
Maximum loan term is 10 years.
Origination Fee:
4.00%
How To Qualify:
675+ Personal credit score
$50,000+ Annual revenue
Great Option For:
Borrowers with good credit
SBA loans
Funding real estate purchases
Refinancing debt
Credit Check?
Soft credit check and hard pull
Co-Applicants Accepted?
No cosigners
Direct Pay-Off To Creditors?
No
Click "Check Rates" to apply to SmartBiz
» MORE: SmartBiz SBA Loan Review
Lendio
Loan Amount:
$1,000 to $2 million
APR Range:
30% maximum APR
Time to Fund:
Access your capital in as little as 24 hours
Loan Term:
1 to 25 years
Origination Fee:
Varies
How To Qualify:
550 minimum credit score
$12,000+ Annual revenue
Great Option For:
High loan amounts
Small businesses with low annual revenues
Business owners with below-average credit score
Credit Check?
Soft credit check and hard pull
Co-Applicants Accepted?
No cosigners
Direct Pay-Off To Creditors?
No
Click "Check Rates" to apply to Lendio
Conclusion
Hopefully, you now know more about SBA loan rates and SBA loans in general. For more information about how any of these loans work, visit the Small Business Association's website at www.sba.gov.
PrimeRates provides access to personalized business loan offers through our simple and quick pre-qualification application. Once you're pre-qualified, you can select the best offer for you and finalize the business loan application with the lender.
Apply in minutes

Our simple application takes less than 5-7 minutes to complete.

Select your business loan offer

Choose the offer that best fits your needs by comparing loan amounts and terms.

Receive funds quickly

Finalize your loan offer with the lender you selected to receive your funds.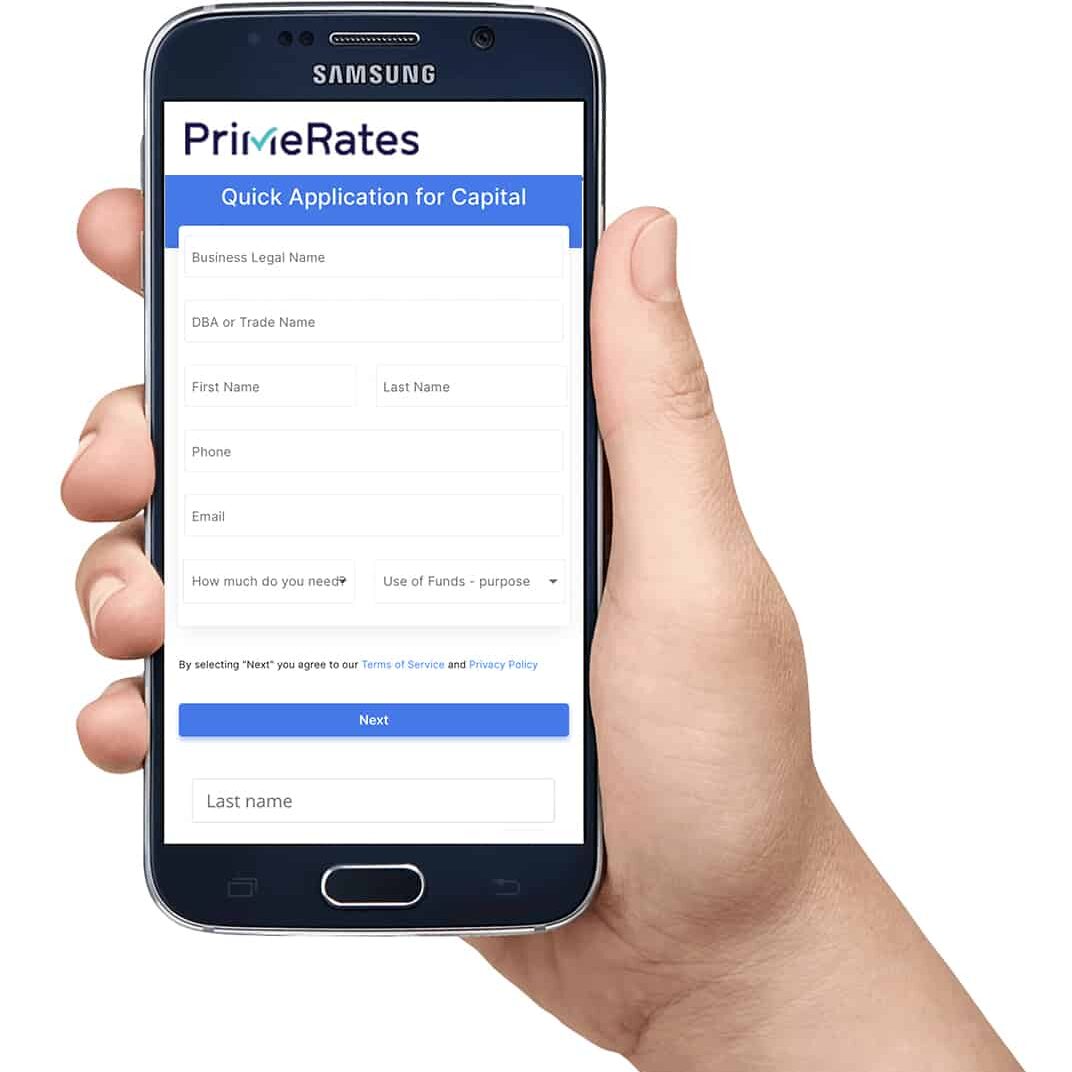 More Business Loan Options