The application process is simple and you get a decision in 24 hours. Once an offer is received and you sign the promissory note, you'll generally receive your funds in your account within in 2-3 business days.
What does Stilt look for?
✓ Current employment/employability
✓ Education
✓ Financial Behavior
✓ Defaults, Collections, or Bankruptcies
✓ Credit Check or Credit Score
Stilt Personal Loans Review
What Is Stilt?
Stilt is a relatively young online lender that was developed to help new immigrants and other underserved populations access loans without first having to establish an extensive credit history or permanent residency.
In addition to personal loans of up to $25,000, this financial technology company offers new student loans, student debt refinancing and loans for last-semester tuition fees.
Before applying for a Stilt loan, you'll want to make sure that you have these elements:
A valid U.S. bank account

A U.S. phone number

Verifiable employment

Residence in

AZ, IL, FL, TX, PA, CA, MI, WA, GA, NY, NJ, VA, WI or UT

F-1, OPT, O-1 H-1B, L-1, DACA  or TN visa that is valid for at least six months
Stilt might be a good fit if:
Stilt simplifies the loan application and approval process for asylum seekers, refugees and recent immigrants without green cards or social security numbers. If you recently moved to the United States and are struggling to qualify for small personal loans with permanent residency or extensive credit history requirements, Stilt's product might be the right option for you.
Because their loans have a ceiling amount of $25,000, a personal loan from Stilt is ideal for covering smaller expenses such as moving costs or automobile down payments.
This company could also be worth looking into if you're an F-1 visa holder looking to refinance already-existing student debt, but don't have a cosigner to improve your chances of approval for other, more traditional loans that might require you to apply with a friend or family member with extensive credit history. Stilt also offers new student loans to foreign students with OPT visas to study in the United States.
What makes Stilt personal loans unique?
Many new immigrants and foreign students struggle to find formal financing for both personal expenses and education due to the difficulty of obtaining a loan without having permanent residency. Stilt makes the approval process easier for this population of borrowers by removing the requirement to have a green card, social security number or any prior credit history in order to qualify.  While many lenders do require these elements, Stilt allows holders of F-1, OPT, O-1 H-1B, L-1, DACA and TN visas to qualify for their student and personal loans. Instead of depending on credit history to determine the standards of the loan offer, this lender places more emphasis on education, work and financial history.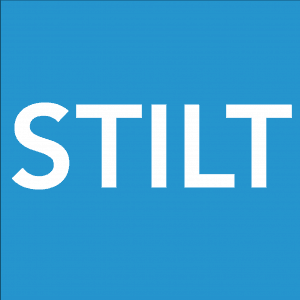 APR range: 7.99% - 29.99%
Available loan terms: Up to 2 Years
Loan amounts: Up to $25,000
Time to fund: Within 3 business days
Origination fee: 0% - 5%
Credit needed: No credit score required
Best for: Immigrants/H1B Visa holders, asylum seekers, refugee
Click "Check Rates" to pre-qualify and receive a personalized rate.
Interest rates: Stilt loans come with a fixed APR starting at 7.99% for highly qualified applicants and ranging up to 29.99%.
Cost: Stilt charges an origination fee as well as a late payment and insufficient funds penalty. Their origination fees range between 0% and 5%, while late payment fees can be between $0 and $25, or 5% of the monthly payment, whichever is higher. The penalty for insufficient funds ranges between $10 and $35.  
The fees are primarily dependent on the borrower's state of residence and any past financial history, and will be disclosed in the loan offer.
Rates, Fees: Stilt offers fixed annual percentage rates starting at 7.99% with a maximum of 29.99%. While there are no prepayment fees, this lender has origination fees ranging between 0% and 5%, and late fees up to $25 or 5% of the overdue monthly payment. These rates are determined by the borrower's qualifications including any prior credit history, annual income and state of residence.
Types of Loans Stilt Offers: Stilt offers personal loans ranging between $1,000 and $25,000. Qualified borrowers can also apply for new student loans, student loan refinancing and loans for last-semester tuition fees through this lender.
Loan example:  A borrower with no credit but positive financial history who takes out $10,000 with 14% APR and a 12-month repayment term will have monthly payments of $897.87.
How to Qualify for Stilt: If you're considering applying for a Stilt loan, there are a few things you'll need to have to ensure that you qualify. Although you don't need any prior credit history or a social security number, you will need a U.S. bank account, as well as a valid U.S. telephone number. You'll also need some verifiable income and an F-1, OPT, O-1, H-1B, L-1, DACA or TN visa that is valid for at least six months.
Additionally, although permanent residency is not required to qualify for a Stilt loan, you'll need to have an address in one of the 14 states that this lender works with, including Arizona, Illinois, Florida, Texas, Pennsylvania, California, Michigan, Washington, Georgia, New York, New Jersey, Virginia, Wisconsin or Utah.  
Because Stilt allows borrowers to apply without any credit history, it determines your loan offer based on your level of education and work experience, any derogatory fees in your bank account, defaults, collections or bankruptcies, financial behavior and the overall accuracy of your application.
Is Stilt Legit and Safe?
With just two and a half years in business, Stilt is still a relatively young company. This lender is not accredited by the Better Business Bureau (BBB), but has been given an A+ rating by them. Stilt also has very good reviews, with a 9.1/10 star rating on Trustpilot.com.
Stilt Pros and Cons
Pros:
No credit score required

No minimum income requirement

No green card or social security number required

Quick funding time, with loans disbursed within three business days

No co-signer required
Cons:
Limited personal loan amounts, with a maximum of just $25,000

Young company without an established track record

Only available in 14 states

Short repayment terms, with a maximum of two years
Stilt Approval Process
Potential borrowers should start by submitting an informational form on Stilt's website. If you fulfill their minimum eligibility requirements, a representative will call you and invite you to submit an application. The lender will initially do a soft credit pull which won't affect your credit score. Stilt considers several other factors including the applicant's education and work experience, financial behavior, the accuracy of the application and any derogatory fees in your bank account.
Stilt won't do a hard credit check until you choose to accept one of their loan offers.
Personal Loans Like Stilt
Even if you are limited in your options due to residency or immigration status, it's still helpful to apply to multiple lenders in order to find the best rates. Companies like LendingClub, Boro, SoFi and Earnest also offer loans to recent immigrants who do not yet have permanent residency in the United States.
Conclusion
Stilt is one of the few borrowing options that refugees, asylum seekers and immigrants have until they establish permanent residency and extensive credit history. While Stilt's loans offer relatively standard annual percentage rates, their maximum repayment term of 24 months can present challenges to borrowers who are not financially equipped to make large monthly payments over a short period of time.
Additionally, $25,000 might not be enough money to cover major expenses or out-of-state tuition payments, so a Stilt loan might be right for you if you have smaller moving-related expenses or a tuition payment due.
Remember to compare different financing possibilities as well as various rates from different lenders before making a final decision on any loan offer.
Stilt Disclosures
Stilt loans are originated by Stilt Inc., NMLS#1641523 ( NMLS Consumer Access). Terms and conditions apply. To qualify for a Stilt loan you must reside in an eligible state and meet Stilt's underwriting requirements. Not all borrowers receive the lowest rate. Rates and terms are subject to change at anytime without notice and are subject to state restrictions.
To check rates and terms Stilt may be able offer you a soft credit inquiry that will be made. This soft inquiry will not affect your credit score. However, if you choose to accept a Stilt loan offer, a hard inquiry from one or more of the consumer reporting agencies will be required. A hard inquiry may affect your credit score.
If you could receive a $10,000 loan with a term of 18 months with an APR of 13.00%, the monthly payment will be $614.48. No down payment is required.
Must Reads