Amex EveryDay vs. Amex EveryDay Preferred: How to choose
The editorial content on PrimeRates.com is not sponsored by any bank or lender. However, this post may contain references to products from one or more of our advertisers. We may receive compensation when you click on links to those products. See our Advertiser Disclosure.
In the rewards points card category, American Express offers the Amex EveryDay Credit Card and the Amex EveryDay Preferred Credit Card. The main difference between the two cards is that the Amex EveryDay Preferred has a more generous reward points program, but it comes with an annual fee. 
Do the higher rewards points offered by the Amex EveryDay Preferred justify paying the $95 annual fee?
It boils down to your budget and if you spend enough to make up for the annual cost of the card in rewards.
To help you decide, we've done a deep dive on both rewards cards.
Here's an in-depth look at the Amex EveryDay Credit Card versus the Amex EveryDay Preferred Credit Card:
1. Amex EveryDay Credit Card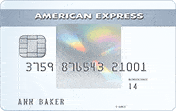 The Amex EveryDay offers 2x points at supermarkets up to $6,000 per year in purchases. On other purchases, you can earn 1x point for every dollar you spend. And if you make 20 or more purchases in a single billing period, you earn 20% more points, less returns and credits.
This card currently also has a generous welcome offer. You can earn 25,000 points if you spend $1,000 on purchases within the first 3 months of opening an account.
APR and fees:
APR: This card offers a 0% introductory APR on both purchases and balance transfers for 15 months. After that, the rate switches to a variable APR of 13.99% to 24.99%.
Annual fee: None required.
2. Amex EveryDay Preferred Credit Card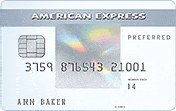 Like we mentioned above, the Amex EveryDay Preferred Credit Card comes out on top in the rewards contest between these two cards. It gives 3x points at U.S. supermarkets up to $6,000 in purchases per year, 2x points at gas stations and 1x points on all other purchases. And if you make 30 or more purchases with your card within a billing period, you can earn 50% more points on those purchases, less returns and credits.
Like the Amex EveryDay, the Preferred card has a welcome offer. But it's less than what the no-annual-fee EveryDay card is offering. You can earn 15,000 membership rewards points if you spend $1,000 on purchases within the first 3 months of opening the account.
APR and fees:
APR Offer: The Amex EveryDay Preferred Card is offering a 0% APR introductory on purchases and balance transfers for the first 12 months after you open up your account. After the introductory term is over, the variable rate is 13.99% to 23.99%.
Annual Fee: $95
Using points:
Rewards points can be used toward purchases that you make on your Amex. This includes retail shopping, dining, and entertainment, among other spending categories. You can also use the points when you book with American Express Travel, without worrying about blackout dates or seat restrictions. You can reserve flights on any airline, as well as book hotels and pay-in-advance vacation or cruise booking. Points can also be transferred to the Amex selection of frequent traveler programs.
When you book travel on AmexTravel.com with your Amex, you get double points. This is available on every dollar of eligible travel purchases. It includes prepaid hotel stays, vacation packages, and cruises.
Other notable features on both cards:
The benefits of these cards don't stop with points. Amex offers more benefits than many cardholders will ever use. That includes:
Roadside Assistance Hotline. You get emergency services, like towing, changing a flat or jumpstarting your battery. The service is available in the U.S., Canada, Puerto Rico and the U.S. Virgin Islands. It's an assistance service only, which means that you are responsible to pay for the service costs themselves. But it can still come in handy in an emergency.
Car Rental Loss and Damage Insurance. When you use your Amex to reserve and pay for an eligible vehicle rental, you can decline the collision damage waiver that car rental companies charge (which can be as high as $30 per day). The car will then be covered if it is damaged or stolen. You still need to have car insurance for primary coverage, but the Car Rental Loss and Damage Insurance will cover your out-of-pocket costs, such as your insurance deductible.
Global Assist Hotline. Get help with select emergency coordination and assistance services, 24 hours a day, seven days a week. This includes medical and legal referrals, assistance with cash wires, passport replacement, missing luggage and more. The service is available when you travel at least 100 miles from home.
Travel Accident Insurance. This insurance provides coverage for accidental death and dismemberment while you are traveling on a common carrier. To be eligible, the entire fare must be charged on your Amex.
Extended Warranty. With the Amex Extended Warranty, you can extend the length of your warranty for up to one year when you purchase the item using your Amex
Refund Protection. If you return an eligible item purchased with your Amex within 90 days of the date of purchase, and the merchant won't take it back, you may still get a refund. Refund Protection has you covered for up to $300 per item, and up to $1,000 per year on purchases made in the US and its territories.
Purchase Protection. Make an eligible purchase with your Amex, and that item can be covered against theft and accidental damage for up to 90 days, for up to $1000 per occurrence and up to $50,000 per calendar year.
Fraud Protection. You won't be held responsible for fraudulent charges. All you need to do is call the number on the back of your Amex and you'll be covered. There is no deductible with this service.
Which should you choose?
It depends!
Lee Huff, who runs the popular travel blog BaldThoughts.com says, "The primary benefit to the paid version is earning a 50% bonus instead of a 20% once you use the card 30 times in a month. With the bonuses, you're earning 1.5% with the EveryDay Preferred and 1.2% with the no-fee version. This provides a 0.3% boost with the paid version."
The tradeoff is in the $95 annual fee on the Preferred card versus the higher rewards it offers. If you can make back the $95 fee based on your spending, it makes sense to get the EveryDay Preferred. If your spending won't result in higher rewards earnings, the EveryDay card is the better choice.
"Some people want a no fee card with great rewards, and American Express EveryDay does just that. For those who really want to accelerate earning rewards, the American Express EveryDay Preferred is a great choice," says Jane Di Leo, director of public affairs and communications at American Express.